Future Plans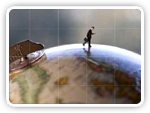 Looking at the emerging trends and needs HIMCON has drawn a logistic future plan for expansion and diversification.

Loan syndication, Consultancy for Power Sector, Sale/disinvestment are the key areas where HIMCON is making efforts. These areas have vast scope for expansion. HIMCON has entered in the field of consultancy to Micro Hydel power projects. HIMACHAL has vast potential for development in this field.

" Realising that the future lies in the areas of bio technology (BT), Information technology (IT) and energy conservation. HIMCON is gearing up to develop the competencies in these fields

" HIMCON is also concentrating on Tourism related consultancy services, which is considered to be a high potential area for Himachal Pradesh, specially Eco-Tourism

" The socially relevant fields like water supply and sanitation as well as waste management are also in the thrust areas of HIMCON.

" Various type of important and life saving herbs are grown in Himachal Pradesh. HIMCON has included identification, cultivation and processing of these herbs in the priority list for development.

" HIMCON has been able to get the study on "Rural Transportation System in Himachal Pradesh" from State Transport Authority for usage by Himachal Pradesh and Society of Indian Automobile Manufacturers (SIAM)

" HIMCON has received a three year Project titled "Science and Technology intervention for improving skills and efficiency of artisans belonging to schedule castes engaged in traditional occupations like wool spinning in rural areas of District Kangra, Himachal Pradesh from Science & Society Division of Department of Science and Technology, Govt. of India.

"HIMCON is presently in the states of Himachal, Punjab, J&K, Haryana & Uttrakhand and now intends to expand its services to the other parts of the country like Rajasthan, Madhya Pradesh, Maharashtra, Uttar Pradesh and Gujarat.